Ace Records, based in the United Kingdom, released a special edition 45 in 2012 of The Seeds' full, unedited studio take of "Pushin' Too Hard" b/w a version of "Girl I Want You" with an alternate overdub. The record came in a thick plain white sleeve and was made available directly from Ace's website. It was a side release in their subsidiary Big Beat's comprehensive Seeds reissue campaign.
From afar the 2012 "Pushin' Too Hard" [unedited version] single looks just like a GNP Crescendo white-label promo release from the 1960s; you have to look hard for the small "© 2012 GNP Crescendo Records, Inc." on the left side of the label. The single's catalog number is NW-502, and the A- and B-sides are each identified after that number on their respective sides.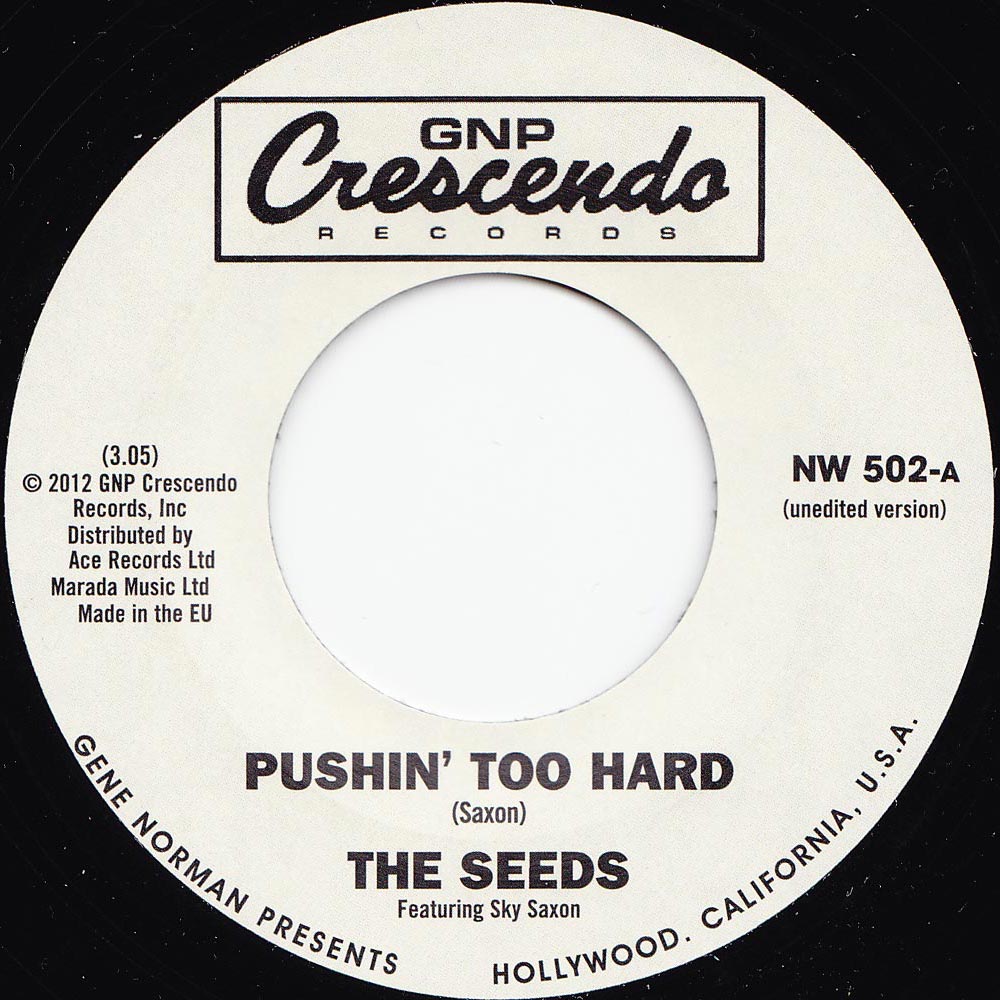 When this full, unedited version of "Pushin' Too Hard" was released on this record – it's the famous original that we all know and love (take 2) but with an extra verse that was removed before it was ever released, plus its full ending (the original faded out) – it was only available in this form. Sky Saxon vinyl collectors had good reason to puff and brag for a couple of years, until this version was released on the 2014 Big Beat CD Singles As & Bs 1965-1970. (A bit of a stretch, since this is in fact a 2012 single, but where else would it go for CD fans?)
Sky Saxon's extra third verse, glorious as it can be, is:
Well I would love you and be so true
But I would never be your fool
So if you think I'm gonna change
Your mind girl must be deranged
'Cause you're pushin' too hard…
The B-side, "Girl I Want You", is in fact take 5 (also released on The Seeds) but with alternate lead vocals by Sky Saxon and guitar by Jan Savage from a later overdub session. This was called "take 6a" and was issued in this form on Big Beat's 2012 CD reissue of The Seeds as a bonus track. (Note that the song on that CD is followed by studio chatter from the next song, making the whole CD track 3:41 in length, but the actual "Girl I Want You" part is the same as this vinyl single, about 2:23.)
On both sides of the record the artist is lovingly rendered as "THE SEEDS featuring Sky Saxon" for old time's sake.